FIRST USPSA ASIA PACIFIC CHAMPIONSHIP
Super squad 18 with shooter from Hong Kong, Taiwan, Philippines and Denmark, Click on photo to see another squad photo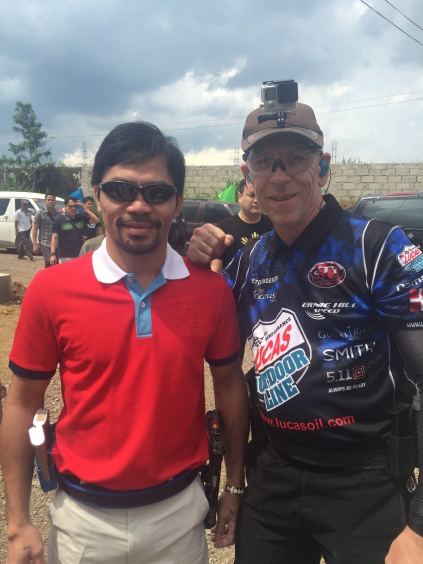 For this match I have made a special shirt of course from Icarus Shirts, this shirt is made for my sponsor in the USA Lucas Oil wish also normally shoot USPSA, and I think it turn out pretty good, made in Max Cool.
And I think Mr. Senator Manny Pacquiao think the same, who came by and say hello, shot some stages, Manny was one of the sponsor on this match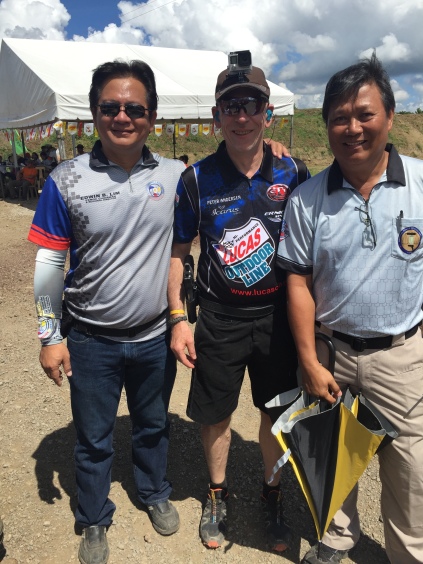 Here am with to of my good friend Mr. Edwin B. Lim As the owner of the range and was responsible for building this big and lovely shooting range and Rey B. Ganaban who use to be member of IROA and we are many who miss Ray on matches. And thanks for welcome me to this match.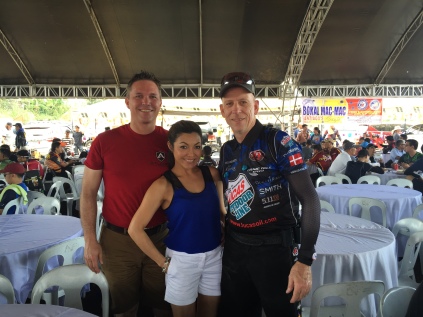 I was lucky that two of my teammates ( Team Icarus Shirts ) came and visited me. Brian og Christina Abbott from USA. Christina is actually a relative of the famous actor and Senator Bong Revilla, which I was allowed to visit in Camp Crame and where Brian made Ear Protection for both of us.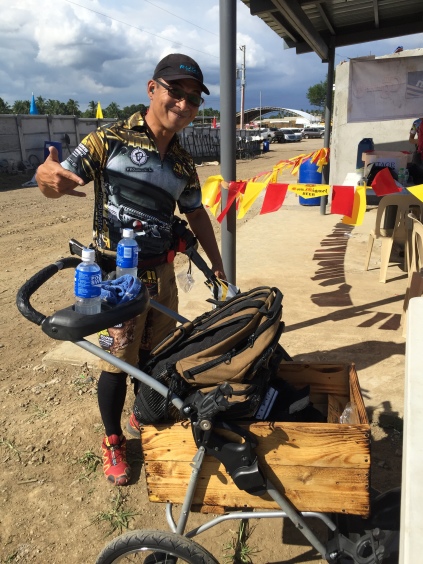 My good friend Jerome Morales shot pre-match and had the most fun range car I have seen. Jerome is also good friends with Manny Pacquiao and was also the main man behind the photo of me and Manny.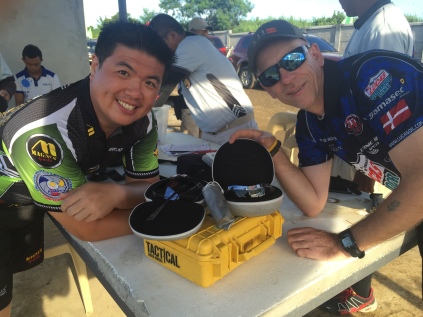 One of my sponsor is SMITH Optics who provide me with shooting glasses. But I find out that my friend Bryant also are using SMITH and the same as me. PivLock™ V2 Max Elite.
Stages in this match looked amazing, clik on the photo above to see the gallery of some of the stages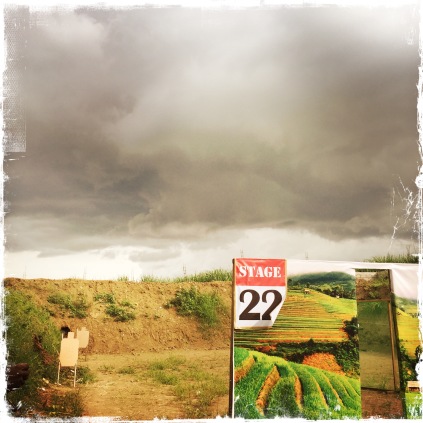 Saturday afternoon there came some rain, but we was finish before the rain came :)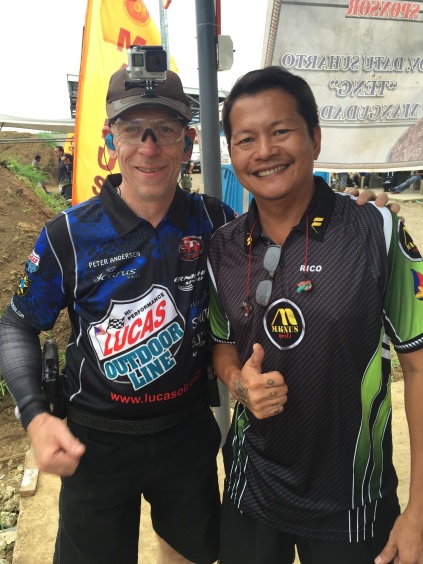 Another good friend was on the match my funny friend Rico Papa a great shooter and a good friend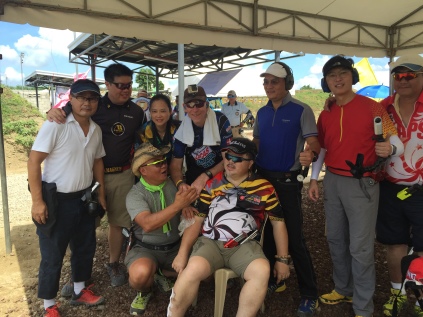 One of our Squad guy fell and just need some attention from the squad then he was ready again :)

I want to thank the whole team Magnus and Jag Lejano to take good care of me, help me with transportation to and from the Rangen, it was a great help, but also to join the fun evenings at the hotel.
The singing Crono Officer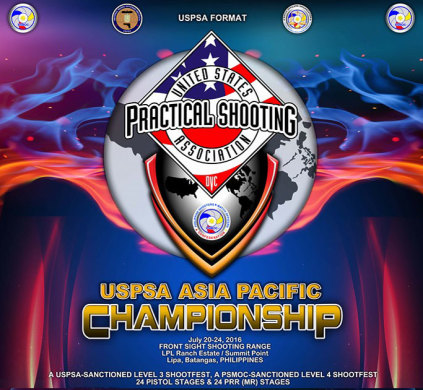 MATCH REPORT
FIRST OF ALL I LIKE TO SAY THANK YOU FOR A GREAT GREAT MATCH
AND THANK YOU TO BOBBY WORRICK BRENDIA FOR LET ME BORROW YOUR GUN.
AND A BIG THANK YOU TO TEAM MAGNUS AND JAG LEJANO FOR HELPING ME OUT WITH TRANSPORT AND THE FUN WE HAD AT THE HOTEL.
THANK´S TO JEROME MORALES, RICO PAPA, ABBY CUYONG. EDWIN LIM AND REY GANABAN FOR ALWAYS BE A GOOD FRIEND TO ME.
Just got home from Gunshow and BoloCup, and now I'm already thinking about my first USPSA match in Lipa Batangas here in the Philippines. The match is the first Asian Pacific Championship.
Am shooting the match Friday and Saturday, and maybe stay for the price-giving ceremony on Sunday. Well, how do I get down there, maybe take the bus from Cavite to Pasay and then to the bus terminal, it takes probably a couple of hours with traffic.
No I decided to use my Grab friend Dennis again ☺
Dennis picked me up Friday at. 9am and 1 ½ hour later we were in Lipa.
I had ordered room Saturday and Sunday, but was so lucky that they had a room for me later in the day, so I drop of my luggage and Dennis was so kind to drive me out of Rangen.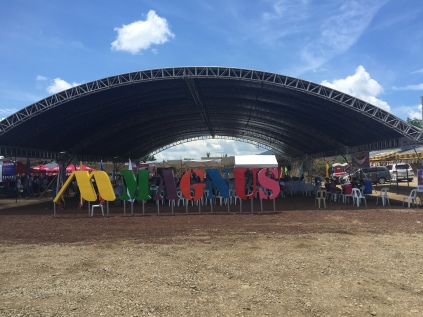 I made my registration and got my card, then I spent some hours to look at every stage, Say hello to new and old friends and got to see the great new shooting range which has just been built.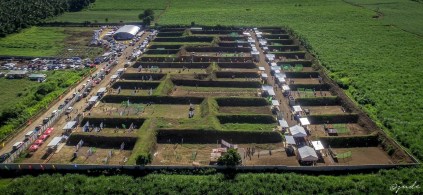 The shooting range is brand new, owner and PSMOC Chairman / RD and a really good friend Mr. Edwin B Lim, started building it back in April, and in three months they had built a shooting range, and when it is completely finished being the largest shooting range in the Philippines. Called Front Sight Shooting Range, and is located in the LPL Ranch Estate / Summit Point, Lipa Batangas. https://www.facebook.com/edwin.b.lim.9?fref=ts
There will be 31 = 25 m Bays, 2 = 40 m Bays, 7 = 50m Bays and 2 = 100 m Bays total of 42 Multi Discipline Shooting Bays.
Probably the best shooting range I've been to in a really long time. Please go here and see the video and explain by Edwin B. Lim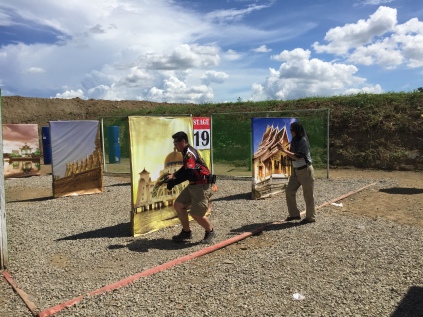 Bryant on stage 20
On Saturday morning we should be on our stage and first shot at. 07:30am but since we are in the Philippines it´s not working that way , and I don´t fill good about this, well when I got the schedule I have to be on the stage at. 7:30 I normally like to be at the shooting range 1 hour before. But again ummm. We arrived at the shooting range at. 8 am and had to run up to Crono stage, here I had to borrow Bobby Worrick Brendia Tanfoglio production gun which would be the first time for me to shoot in production, and that is because my own gun is still in Denmark.
Click on the photo above to see the gallery of me shooting
I started out on the first stage of forgetting a target, that have been a long time since i did that, but lucky me I only got two miss, no procedural penalty.
But rest of the stages went much better for me, except when the steel was far away ☺ but we still had fun.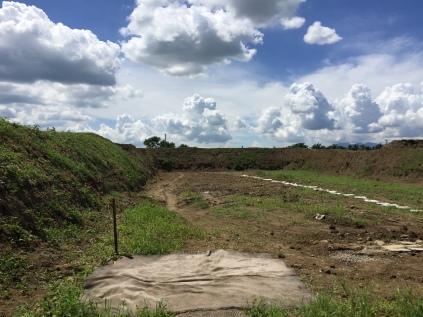 There was also a standard exercises stage or Classifire stage with 3 target of 45 meters where you had to shoot it over 3 string. 1 string standing, second string kneeling and third string prone. Minimum 6 rounds in 5 seconds. on each string. And I already knew before I started that I would zero this stage, and yes I did zero the stage. ☺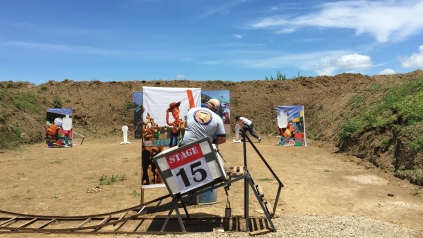 Stages is great, but two stages was pull out, stage 15 the rollercoaster stage because it was a unsafe stage, shooter fall out when it´s start moving, and it did not work Properly, the other stage was stage 23 to much problem with the popper. And I think for that stage is was sad, they put so much money and effort into this match and the range, that to buy new popper and plate for this big and nice match, would have been better. But this is a general problem here in the Philippines, steel is simply not strong enough, because it's used for Handgun, riffle, shotgun, and life on the steel here, I think they should crack or pulverize before they will replacing it :) :)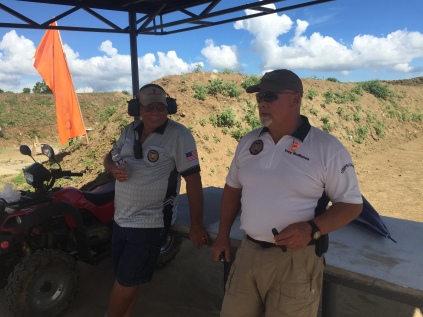 This match had they received help from the United States Range Master Troy McManus, Area CRO and RO, Carl Schmidt, Chris Palmer, Mara Wanderer, Carol Moreland, Joe "Santa Claus" Sullivan, George Jones and Danny R. Garza.
To see more pickture of Many Paquiao click on the photo above and see the galley of many and me :)
As I told before, we had a nice visitor on this match, Mr. Ronald "Bato" Dela Rosa came, but also Mr. Senator Many Paquiao with body guard etc. etc. Many shot few stages, great guy, When they came around the corner and my friend Jerome Morales so me, he call me to come over, and he introduced Many to me, we shake hand and say hello, Many asked where I came from and I answered from the country where we have Mikkel Kessler "Denmark", he smiled and say wow.
Click on the galley to see from the award night
I did not really not know if i would come to the award night, it used to be long and boring, but when I heard that there were good prices to win at the lottery, I agree with myself that I would come. I was told that I had to be there at around 5:30 pm and it would only take a few hours so I called my Grab driver and told I would be ready to be picked up at 8pm.
Award nigt was held at the golf club Summit Points, one giant place. Well I was registered and was forced to become a member of PCMOC to participate in the lottery. I was placed at the VIP table no. 1 up front.
It should prove that the award night was not finished until long after midnight, I tried to call my driver, but he was already on his way, and he had to sleep in the car for 4 hours before I was finished without winning anything. again Award night sucks. But they did a great job with food and everything so thank for this.
Thank´s to my squad I had a great time with all of you
So what can I say overall about this match.
It was a great experience to shoot my first USPSA match and it will not be the last time. Overall, it's a really nice shooting range and it will be even better when it is completely finished. The people behind this match have done a tremendous job, and huge applause for all of them, great job.
My own performance, yes all in all it went really well, in fact it was as I said the first time in production, there is always room for improvement. I came 8th place in Senior and 50th place overall with 49,32%
As also written on the left of this one. I would like to thank the entire team Magnus and Jag Lejano who stay at the Hotel Corona, to take care of me and driving back and forth to the shooting range, and for cozy evenings at the hotel.
Thanks to Edwin Lim for this fantastic match, will see you again soon